Detoxify and Rejuvenate Your Skin At Home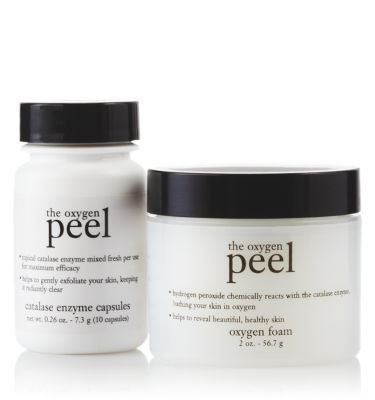 We want to share with you all a treat for for all skin types. We are bringing dermalogist strength products right to your home. Today we want to share with you all a truly miraculous face peel that will leave your skin feeling and looking beyond amazing. This facial peel we want to tell you about is safe and gentle enough for even those of us with sensative skin because it is free of harsh chemicals such as parabens, sulfates, and synthetic fragrances.
The Oxygen Peel by Pilosophy is at home oxygen peel kit.
                       
The Oxygen Peel is formulated to Detoxify, rejuvenate, and replenish your complexion with a deep "breath" of oxygen. This renewing treatment helps to clear up and prevent breakouts while minimizing signs of aging and sun damage. Your complexion will take on a new radiance, become more receptive to subsequent treatments, and "breathes" in a dose of refreshment.
                             Key Ingredients


*Catalase Enzyme: infuses skin with oxygen for bright skin


*Hydrogen Peroxide: kills bacteria


*Tocopheryl Acetate: provides anti-oxidant protection


Location: Ulta Beauty, Sephora and philosophy.com


Price: $50.00




Revive your skin and give it that covetee luminous glow. Having great skin is now made easy with this Philosophy Oxygen Peel. It's easy to use and provides effective results. Check it out and let us know what you think.


We give The Oxygen Peel a SMOOCH!
Our  Keys:
Favorite-Smooch
Bargain-Three Winks
Expensive but worth it-2Kisses and a Wink
We don't like it- Frown
Whatever your hand finds to do, do it with all your might…Ecclesiastes 9:10
Signed Kiss and Wink
Call me for a quote on Home, Auto, or Life Insurance in Texas
Liberty Mutual is not affiliated with keys2beauties in any way
Click the like button to become a Fan, we would love it.