Who Wants Flawless Lips?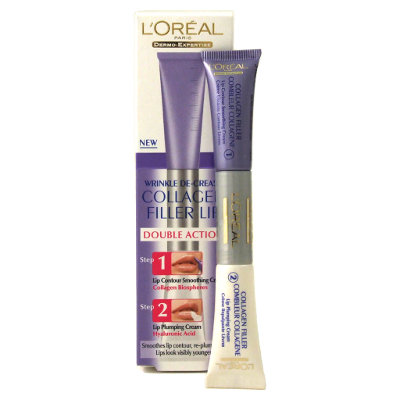 Flawless lips. Who doesn't want the perfect pucker. I think it's safe to say that we all do. However, the area around  your lips, just like the rest of your face begin to lose elasticity and wrinkle. That is why it is important that we take special care of the lip area and care for them as we do the skin on the rest of our face. We want to share with you all today a lip filler by L'oreal called Wrinkle Decrease Collagen Filler Lip.
What causes lips to wrinkle?
There are multiple factors that contribute to lip wrinkles. The muscle surrounding the mouth area, the Orbicularis Oris constricts as we use it . Over time repeated lip activities like sucking, chewing, pursing, kissing and smoking cause wrinkles around mouth lines to form. Wrinkles around mouth are also more noticeable as we begin to age because the skin becomes thinner, this results in the lines becoming even more visible.  Also during the aging process there is collagen and fat loss in the skin which results in more sagging of the lip area.
                   
                            How L'oreal Collagen Lip Filler is so effective
 * How it works around the lips: This product contains and anti feathering creme with collagen biospheres that fill in vertical lines around the lips and instantly redefines your lip line.
 * How it works on the lips: This product has a plumping serum that contains Hyaluronic Microspheres that instantly boost your lips natural hydration to smooth your lips surface leaving them to appear smoother, fuller and perfectly plump.
                                  
How to use L'oreal Collagen Lip Filler: Apply Plumping serum to lips and gently smooth onto entire lip. Then apply Anti-feathering creme to lines and wrinkles around the mouth. Allow creme to absorb before applying lipstick or gloss.
Location: HEB, Walmart, Target, Walgreens and CVS.
Price: $19.99
Plumped, beautiful, younger looking lips with perfectly defined contours is what you will achieve by using this product. Not only will it help to fill in existing wrinkles and lines it will also help prevent future wrinkles. We (Kiss and Wink) are all about youthful radiant skin and lips that is why we highly recommend you check this product out. We give this product a Smooch and Three Winks.
O

ur  Keys:
Favorite-Smooch
Bargain-Three Winks
Expensive but worth it-2Kisses and a Wink
We don't like it- Frown
Whatever your hand finds to do, do it with all your might…Ecclesiastes 9:10
Click the like button to become a Fan, we would love it.