Sexy Summer Tanks
Summer time is upon my lovely ladies. And yes we know it is already scorching hot especially for those of us in the South Texas region. It's hard to get all dolled up, look ultra cute and stay cool at the same time. Well We (Kiss and Wink) found a way to look ultra fly in this heat by wearing super cute Tank Tops! Tank Tops are no longer plain and boring. There are a variety of tanks out their with sexy sequins, bold patterns, hot animal print and much more. Take a look at some of the cute Tanks we found.

Cache – Sequin Animal Tank $78
2Kisses and a Wink

                                                      Charlotte Russe – Patch Pocket Satin Tank $16.99
                                                      Three Winks

BEBE- Hanky Hem Tank Top $ 49.00
2Kisses and a Wink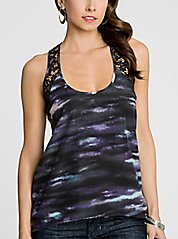 Guess – Marlene Twilight Top $29.95
                                                                   Three Winks

Forever 21 – Floral Zipper Tank $19.80
Three Winks

                                                                  Arden B – Sequin Tank $29.99
                                                                  Three Winks

JC Penney – St. Johns Bay Crochet Lace Tank 12.99
Three Winks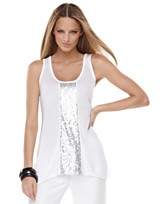 Macy's – INC International Scoop Neck Sequin Tank $49.50
                                     Three Winks

Nordstroms – Twenty8Twelve 'Rivera' Layered Tank $105.00
2Kisses and a Wink

                                                            Dillards – Gianni Bini Jacqueline Tank $38.00
                                                            Three Winks

Dillards – 2 B Rych Grosgrain Strap Draped Tank $158.00
2Kisses and a Wink
These Tanks can be paired with your favorite skinny jeans, a sassy skirt, a nice pair of capri's and even a pair a shorts. With so many styles of tank tops out there you are sure to find plenty that you like. Beat the heat and look extremely fashionable in a sexy summer tank top. We love hearing from everyone of you, so please let us know which one you like as well as any tank tops you personally love by commenting on our blog.
We give Sexy Summer Tanks a SMOOCH
O
ur  Keys:
Favorite-Smooch
Bargain-Three Winks
Expensive but worth it-2Kisses and a Wink
We don't like it- Frown

Whatever your hand finds to do, do it with all your might…Ecclesiastes 9:10
Signed Kiss and Wink
Click the like button to become a Fan, we would love it.