The Perfect Hoop Earrings
Hoop earrings are the perfect earrings for ALL occasions. Hoop earrings were extremely popular in the sixties and seventies and the glamour of  hoop earrings have not faded even today. The right earrings are essential to completing your look. Earrings are the accessory that can either make or break your outfit. Why not make that outfit with a perfect pair of hoop earrings? Hoop earrings suit all woman no matter what age, race, skin type and face shape. These earrings come in all sizes and design and are perfect to make that beautiful face stand out.

                                                Bebe Three Row Crystal Hoop Earrings – $34.00
                                                                                                                              
                                          Multi – Layered Hoop Earrings by Charlotte Russe – $4.00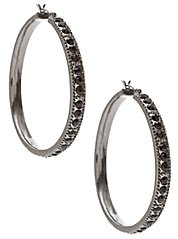 Jet and Crystal Hoops  by Guess – $28.00

                                        Bakers – Suede Stone Earrings – $14.00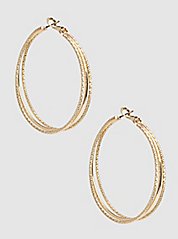 Gold Sectional Hoop Earrings by Guess – $22.00
              Arden B Diamond Cut Hoop Earrings – $12.00 (Silver or Gold)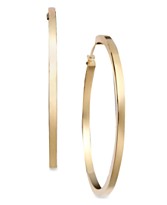 14k Gold Hoop Earrings – Macys $600.00 also available in 14k White Gold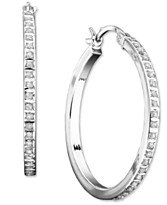 Sterling Silver Diamond Accent Hoop Earrings – Macy's $260.00 (Available in Gold)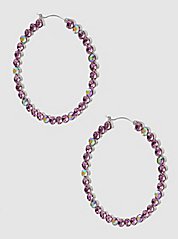 Amy Stone Hoop Earrings by Guess – $30.00
We (Kiss and Wink) love hoop earrings of all sizes and design. They can be the finishing touch that completes your outfit by adding some pizazz. Hoop earrings are also the perfect accessory to compliment that beautiful face of yours. Like we said earlier hoop earrings come in multiple sizes, shapes and designs. They have been in style for decades and will be in style for decades more! Next time you are out shopping do us a favor, find the perfect hoop earrings for you and splurge on yourself. You won't be disappointed. You will look and feel confident, sexy, sassy and stylish.
We give
Hoop Earrings
a
Smooch
.
Our  Keys:
Favorite-Smooch
Bargain-Three Winks
Expensive but worth it-2Kisses and a Wink
We don't like it- Frown
Whatever your hand finds to do, do it with all your might…Ecclesiastes 9:10
Signed Kiss and Wink
Click the like button to become a Fan, we would love it.