Bold Prints
One big Spring 2012 Fashion Trends seen on the runways were clothing with super bold prints. Whether it be bold prints on shorts, pants, dresses, skirts or blazers, you can't go wrong. Super Bold Prints are whats hot right now. We loved the look of Bold Prints so much we decided to show you some of our favorite picks and let you know where you can get them.
Theory Elly Cubist Print leggings – Nordstroms $225.00
Ikat Silk Scarf Poncho Top – BEBE $89.00
Bustier Wrap Top – MACY'S $49.00
Viper Pleated Romper – BEBE $109.00
Color Block Mini Skirt – Dillards $44.00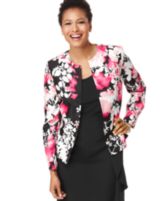 Kasper Jacket – Nordstroms $129.00
Tommy Hilfiger V neck stripped dress – Macy's $98.50
Speechless Maxi Dress – JC Penney – $89.50
This Spring Bold Prints and colors are what's hot. Here are just a select few of the cute bol printed clothing items that caught our eye. Let us know what you think
We give Bold Prints a SMOOCH!!
Our Keys:
Favorite-Smooch
Bargain-Three Winks
Expensive but worth it-2Kisses and a Wink
We don't like it- Frown
Whatever your hand finds to do, do it with all your might…Ecclesiastes 9:10
Click the like button to become a Fan, we would love it.