Blush That Compliments Your Skin Tone
Blush can truly be a lifesaver for our face somedays. Ever had days where you are not feeling yourself and it is showing on your face? Well add some cheer to your look with blush. Blush not only helps to brighten your face it adds much needed color sometimes and it can even be used to contour your face. Choosing the right shade of blush for your skin tone and applying it properly can be quite tricky. So, today we want to help you indentify which color blush works best for you and your skin tone. Keep reading to see what is best for you!
Fair Skin Tones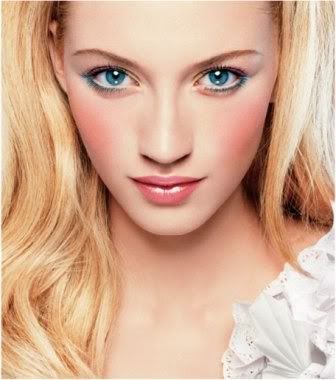 If you have fair skin the best colors to bring out your complexion are more in the hot pink range as pictured on the model above. Hot pinks give fair natural, beautiful glow.
Medium Skin Tones

If you have more of a medium skin tone corals and peachy blushes (as pictured on Eva Longoria above) look stunning on your skin's complexion. These colors really make your face glow.
Dark Skin Tones

Those with darker skin tones can actually wear a wide range of colors on their cheeks. The colors that really make your skin look radiant are deeper, richer, brighter colors such as fuschias and bold orangy colors.
Now all you need to do is figure out what your sin tone is. Find out your skin tone and you can find the perfect blush for you that gives you that radiant glow.
We give Blush a SMOOCH!
Our Keys:
Favorite-Smooch
Bargain-Three Winks
Expensive but worth it-2Kisses and a Wink
We don't like it- Frown
Whatever your hand finds to do, do it with all your might…Ecclesiastes 9:10
Signed Kiss and Wink
Click the like button to become a Fan, we would love it.